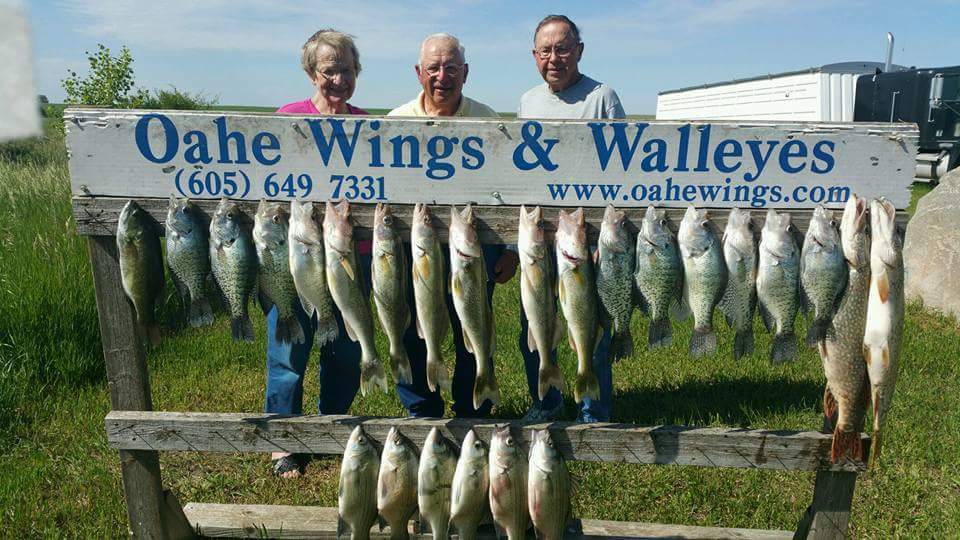 In South Dakota, on Lake Oahe, May brings the start of our open water walleye fishing. Following the spawn, our walleyes become very predictable…meaning very hungry. This bite tends to be quite reliable through the middle of August. You are allowed 4 walleye per day with an 8 fish possession limit. We not only guide for walleyes on Lake Oahe, but provide opportunities for small mouth bass, white bass, catfish, northern pike, and a variety of others. With Chad's professional angling experience along with growing up on Lake Oahe, your experience will be one to remember. Leave your worries at home and come enjoy South Dakota's premiere walleye destination – offering quality fishing guides in South Dakota!
Fishing Packages
3-Day Package
$780 per person
Includes:
3 days fishing
meals(hot breakfast and supper, sack lunch)
guide
bait
tackle
cleaning, freezing and packaging of fish
Day Rate – Per Boat
2 people(minimum)$250/person
3 people $200/person
4 people $175/person
5 people $150/person
Includes:
One day guided fishing
bait
tackle
rods and reels
cleaning, freezing and packaging of fish
Lake Oahe Ice Fishing Guide
Ice fishing is definitely, another one of South Dakota's best kept secrets. Starting around the first of the year to the first or second week in March, walleyes are in abundance for ice fisherman on Lake Oahe. We offer you two choices of packages: the do it yourself package and the complete package.
Complete Package
$250 per person/per day
Includes:
lodging
meals
tip-ups
tackle
rods and reels
cleaning, freezing and packaging of fish
full assistance of the guide
Do-It-Yourself Package
$95 per person/per day
Bring your own equipment. We will give you an up-to-date fishing report and point you in the right direction.
Includes:
Lake Oahe Outfitters – Fishing Guides in South Dakota (SD)
50% Deposit Required – All Deposits are Nonrefundable and Nontransferable
Total Deposit Cannot Be Applied Towards Final Payment When Group Size or Number of Days Hunted/Fished Is Reduced
All Prices Subject to SD Sales Tax